The Dream for the Future
We are very EXCITED to announce that our Foundation has decided to pursue building our own inside pool facility.   Families in our community need and deserve a safe place to learn how to swim that is not cost prohibitive.   BHJSL has always been dedicated to waterprooofing the Charlottesville/Albemarle area.   Since our beginning in 2010 nearly 30,000 children have been taught to swim through our work.   It is now time for us to have a permanent home so we can continue impacting our community.    We are the leading learn to swim foundation working with underserved people groups in the region.   We love working with Nonnative English speakers, Differently Abled individuals,  Adults who are scared of the water, those who find swim lessons cost prohibitive and those who just find "traditional swim clubs" not a good fit.   The Ben Hair Just Swim for Life Foundation is proud to make learning to swim attainable to everyone.
Please follow this link to view our Capital Campaign Document and better understand our vision for the future.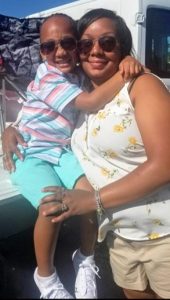 Catherine  is a single mother doing her best to raise an amazing son in Jallen.    While in the water one day with Jallen, I looked over and noticed Catherine clutching the arms of chair.  She was clearly scared to death.   When the lesson was over.   I went over and asked her if she could swim?   She said that she was never allowed to be in the water and learn. We agreed that she would come the next week ready to get in with me.   I am pleased to say that she is now swimming safely in the 7 ft. water and loving it.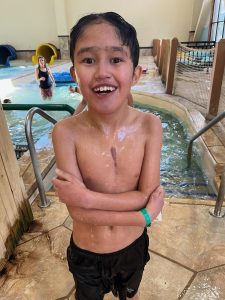 Fraydoon came to the United States from the Middle East needing a major heart surgery.  As a result of coming to a new country and having surgery, he became filled with lots of anxiety.    Swimming helped him slow down and become more measured and confident in his ability to control his actions and manage his stress.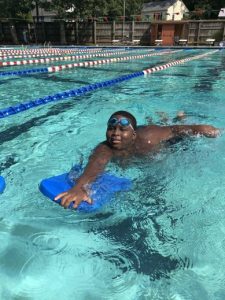 This amazing young man was born and raised in the Charlottesville area to parents who were not allowed to swim Othinel was first concerned about his body image and upon coming to BH-JSL he saw many body types as well as many languages.    Othinel now knows that he can succeed and is doing amazing things in his pool time.  He recently swam 50 meters and was so proud,  We all cheered him on to victory.
Would you like to help us achieve our Dream?   Please fill out the form below and submit.  Thank you