All About the Team Time Trial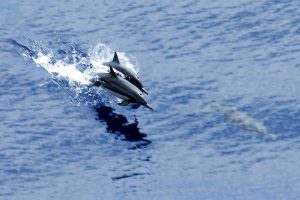 The Team Time Trial, or "Team Pursuit" as it's officially known in FINA parlance, is a race in which teams of 4 or more people swim as a group with the goal of having the 4th person cross the finish line with the fastest possible time.  Inspired by the TTT in cycling which features in such races as the Giro d'Italia and the Tour de France, the outcome of this race is determined as much by the most effective use of the draft as it is by the raw speed of the team members.
Drafting has the potential to reduce drag by over 25% in "single file" drafting and up to 20% in "lateral drafting".  While the basic concept is easy to understand, very little is known about open water drafting formations with more than 2 swimmers and the maximum benefit that may be achieved.  The goal in this race is ultimately to use the draft to increase the rate of speed of your slowest swimmer over the given distance.  What formation will be best: the "V" used by migrating geese, clustered like a pod of dolphins, a single file line, or a multi-column line with 2 or more swimmers abreast??   In our race, coaches will be required to accompany their team in a kayak to help monitor safety, but this will likely also benefit the group as the coach should be able to help them maintain proper pacing without dropping their 4th swimmer.  What techniques will the most effective coaches employ to keep their swimmers barreling along on the edge of disintegration?
The Gestation, Birth & History of the Open Water TTT (or Team Pursuit)
We have literally been planning (OK, thinking about) this "Team Time Trial" for years now, but never got it of the ground until this summer's event at the Ben Hair Open Water race.  We are pretty convinced that this is an idea who's time has come, I mean, bike racers long ago realized that drafting made you faster, and that if you draft off of someone who wants you to do it you can really maximize your advantages – so the team time trial is a natural expression of the ultimate in hydrodynamics and team building.
Well, it turns out that if you have a great idea, often, someone else has it too :).  This idea, is not entirely novel, having been run swum at the 2011 World OW championships (see here for the report of Team USA's victory).  Heck, if you want to get literal, apparently there has been an annual 12k team pursuit (that's 12k, twelve kilometers, not a typo) run in Japan for 65 years consecutively.  That said, the event is most certainly a rarity, with literally no known events being staged in any domestic races on the 2013 OW calendar (though there was one in the 2012 NC champs).  In fact, when we were going through the sanction process this year, it seemed that it is not really considered an event by USA swimming, but it does merit an entry in the OpenWaterPedia under the name of "Team Pursuit".  There are also several interesting mentions across the web:
So, Why Hasn't This Caught On??
This is the million dollar question, the answer just may be: "cause WE hadn't popularized it"!  However, it may also be that swimming has come from a long history of thinking of itself as "an individual sport", even though few have more fun than in a really crucial relay.  One possibility is techique: until we learn how to do it well it will provide as much frustration as fun.  My guess is that we need to keep hosting them, talking about them, and specifically, raising the stakes at the international level: a presence in the World Champs at every edition will be a great start.
The Real Benefits of the TTT

But all of the fun and games aside, the virtue of this event may lie in that it provides a test of drafting skills, skills that can be enhanced by training for and competing in TTT events.  For athletes trying to learn to draft effectively for use in open water races and triathlons, the ever-quotable triathlon coach Dave Luscan put it this way "if you can't draft off of someone who wants you to draft them finding feet in a tri ain't happening!